Save · 5 min read
How Much Do I Need To Save For A Flat Deposit In Bristol?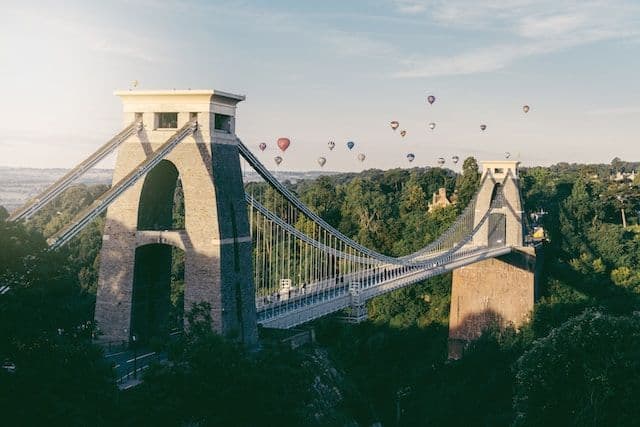 Saving up for your first place can seem like a big job, especially if you want to move to a city.
Bristol is a city that marches to its own beat. Its unique feel, kicking music scene, and trendy atmosphere have caused it to be popular with younger residents. In fact, in 2022 it was voted the best place to live outside London if you're under 26.
With all its hip and chic features, who wouldn't wanna get a flat there, right?
Not only is it a great place to live, but a fantastic spot to work. And whilst this has all the benefits of a 'Mini London', it's not nearly as pricey. But though it's more affordable than our costly capital, this trendy city does come with a bit of a price tag!
So, let's talk flat deposits in Bristol, and go through some handy tips to help you achieve your saving goals.
And if you need a bit of help, Prograd's algorithm creates a personalised plan to help you reach your saving goals, simply fill in our 30 second form to get started and save thousands!

What Are The Average Deposits Paid Across The UK?
Before we get to Bristol, let's paint a picture of deposits across the UK.
In the UK, the amount you need to save for a deposit really depends on where you live. Everyone knows that London is way more expensive than most other places. But where does Bristol sit in all this?
Well, according to current stats, the average first-time buyer in London is paying a 34% deposit to secure their home. This has left the average deposit amounting to £144,500.
Yikes! This seems pretty costly, right? Just remember that the capital is the exception to the rule. If you're looking for a flat elsewhere in the UK, things will be a lot cheaper.
What Is The Average Flat Deposit In Bristol?
So, let's get down to it! Exactly how much should you save for a flat deposit in Bristol?
According to 2023 stats, the average deposit in this region is - drum roll please - around £50,000.
Now this may seem like a lot, but don't worry! Bristol has some pricey properties, which hikes this average up. If you're a first-time buyer, you'll probably be going for a cheaper property and so the deposit will be less.
Not only will you probably be going for a cheaper flat, but there are schemes that can help you maximise your deposit. So, don't worry, you won't necessarily need to be saving up to £50,000!
Normally, the minimum deposit for a property is 10% of the property's value.
So, if you're looking to buy a flat in Bristol, take a look at the price and work out 10%. This will give you a good idea of how much your deposit should be.
What Schemes Can Help Me Save For A Flat Deposit?
As we've mentioned, saving up 10% of the flat price is a good figure to aim for. But there are also some other options available that could help with your flat deposit.
The UK has lots of schemes that can help buyers, particularly first-time buyers, with their deposit.
For example, the Skipton Building Society has introduced a 100% no-deposit mortgage. Sounds pretty great, doesn't it? This scheme does what it says on the tin. It allows renters to buy their first home without a deposit. Result!
You may also be eligible for various government schemes, such as the mortgage guarantee scheme. This scheme means you only need to save a 5% deposit to get on the property ladder.
So, if saving up a 10% deposit for a Bristol flat feels like a tricky task, help is at hand!
What Tips Are There To Save For A Flat Deposit?
If you're looking to get a flat in Bristol, we'd really recommend checking out these schemes. Especially if you're a first-time buyer.
But there are some other things you can do to help saving for a flat deposit much easier. Here are some practical tips to help you achieve your savings goal!
Set a Budget - A budget is a must when it comes to saving. This will help you cut down on spending unnecessarily on clothes and overpriced pints!
Savings Account - Opening a savings account with a competitive interest rate can maximise your savings with minimum effort.
Government Schemes - As we've mentioned, definitely check out if you're eligible for these schemes. Don't be shy to get all the help you can!
Increase Income - Sign up for platforms such as Prograd to boost your income with part-time jobs and side hustles.

Conclusion
No one likes saving - it requires discipline, dedication, and careful planning. Boring! What about that coat you wanted to buy? That holiday you wanted to go on? You might need to sacrifice some luxuries to save for a flat deposit.
But just imagine how great it will feel once it's done! You'll be free to explore beautiful Bristol and indulge in all the fun and culture it has to offer.
Just follow our deposit-saving tips and tricks, and you'll be on the right path to owning a flat in Bristol. So, happy saving!