Jobs · 6 min read
Best Online Side Hustles For University Students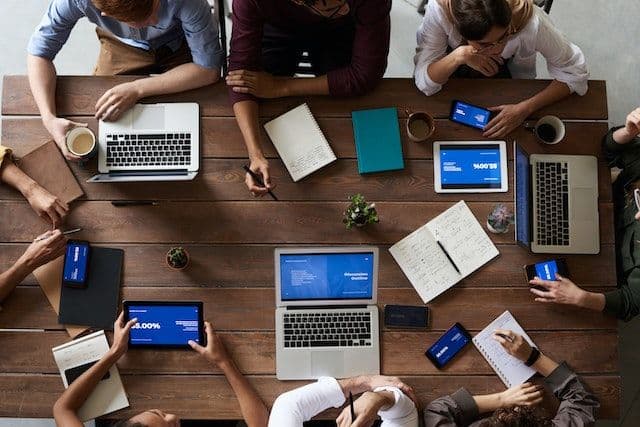 Online side hustles can be a great way to earn some extra cash. There's no denying that attending university can make for some tricky conversations between you and your bank account.
When it comes to assessing your employment opportunities, you may have only considered getting a regular part-time job. But that's so 2000s. We know that these types of jobs can be inflexible and demanding with little financial reward. Considering you're a student, you shouldn't be trying to make your life more difficult.
We are living in a digital age where online side hustles are becoming an increasingly popular way for students to earn some extra cash. Whether you're looking for additional income for you to have fun, pay off student debt, or just want to gain some practical experience, there are a lot of side hustle opportunities out there for university students
What Are Online Side Hustles?
Online side hustles are great ways to earn additional income through flexible means. An online side hustle can be performed alongside your day job or studies.
These online side hustles can be just about anything from engaging in surveys online, monetising your passions, finding odd jobs online, etc.
Where Do I Find Potential Side Hustles?
You'd be surprised how easy it is to find a side hustle that's worth your time. There are so many great side hustles available, and there are also a ton of platforms that aggregate all the side hustles out there, so you can compare them and find side hustles that work for you.
These platforms can streamline the application process, allowing you to find jobs that maximise your income in a shorter amount of time. Considering you're a student, you should be looking for easy ways to make extra money because otherwise, you're just going to be stressed out.
Alternatively, getting an online side hustle may mean side-stepping the customary employment process. Setting up your shop on an e-commerce platform, for example, can be a great way to start selling a product or service. This is assuming you've got the time to be selling products and services.
Regardless of which side hustle you engage in, the truth is that the digital age has made making extra income far more accessible. Imagine walking out of university with a decent financial standing. By exploring these many online avenues, students can maximise their finances while building a foundation for their future careers.
What Are Some Side Hustles For Students?
Need some inspo? Dw, we got you.
Complete Online Surveys
Imagine getting paid for your opinions! Well, by completing paid surveys, you can earn easy money. This is perhaps one of the easiest ways to make money online. Start by signing up for a platform that allows you to find surveys and select the ones that most appeal.
Whilst it may not be the most exciting work, surveys provide great flexibility for those looking to earn some extra cash. Instead of wasting away on your phone playing games and watching TikToks, why not earn money by telling companies how you feel about things? It couldn't be easier.
Turn To Tutoring
In today's world, learning online is an increasingly common occurrence. If you are a student that has expertise or a degree in a specific field, why not offer your services as an online tutor? It's time to monetise your intelligence.
In fact, many platforms exist to connect tutors with students seeking academic support. Think of all the benefits that come with tutoring. Not only are you earning some extra cash to support your financial needs, but you're reinforcing your own knowledge. It's like getting paid to study!
Try Transcribing
Are you great at listening and taking notes? Well, you might be perfect for transcribing.
Companies regularly look for people to transcribe audio files into text. And the best part? It's 100% flexible, meaning you can work as much or as little as you want around your studies, all for a good hourly rate. Unfortunately, it's one of the more boring side hustles, but it's still a great way to earn some extra income.
Freelance Writing
For anyone that has a way with words, freelance writing can be a great way of earning on the side. Even with the evolution of AI, companies are always looking for human-written content.
There are tons of platforms out there that connect freelance writers with companies and individuals who need these kinds of services. So start looking around, apply for jobs, and make decent money freelance writing!
You can then work on a freelance basis to start bringing in a steady salary each month.
Try Pet Sitting
Have a passion for furry friends? Why not turn to pet sitting?
Whether it's dog walking, helping with feeds whilst families are away or overnight stays, you can earn some extra money, all whilst caring for some cute creatures. This is a great side hustle if you love pets because getting paid to spend time with animals is a great side hustle.
Conclusion
University is expensive, we get it. The financial strain is a challenge, but it's not one without a solution. These are just a handful of side hustles you can try to help ease the financial burden. There are many more out there worth trying.
While traditional part-time jobs may not provide the level of flexibility you are after, online side hustles offer a practical solution. You can study and work with ease thanks to online side hustles, which make your life so much more manageable.
Embracing an online side hustle not only helps with finances but can also set up a strong foundation for your future success.
Want to improve your financial literacy and work towards your savings goals? Get started with Prograd today.