Invest · 5 min read
Best Stock Trading Apps For Beginners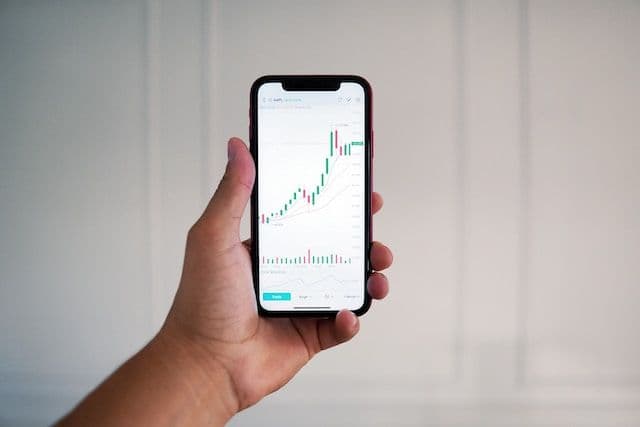 Ah, the world of stock trading. Whatever Wolf of Wall Street images this may conjure up, the reality is a little different.
If you are a beginner in the stock market, you may not be sure how to get started. Stock trading apps are a simple and accessible first point of contact with this world.
So, let's get to it.
What Are Stock Trading Apps?
Once upon a time, investing in the stock market meant calling a broker and telling them what to buy or sell.
In today's digital era, stock trading apps are your new point of contact.
These apps allow you to buy, sell, and trade directly from your smartphone or tablet. In short, they allow people to invest in financial markets. This method is both user-friendly and informative, giving users real-time market data.
But besides giving market data, trading tools and investment options, there are other features that stock trading apps have also evolved to include.
For example, they may have notifications to keep you informed about market movements. Or, they may offer portfolio tracking to help you keep an eye on progress. Even better for beginners, apps may come with educational resources to expand trading knowledge.
It's important to take all of these features into account when deciding which stock trading app to download. If you're unsure, find a platform that allows you to compare investment options, to help you find the best option.
Why Invest In The Stock Market?
This may all lead to one key question - why bother with stock trading apps at all?
These apps open the door to huge financial opportunities. Cash can lose value as a result of inflation. But investing can help to protect the value of your money over the long term.
So, you've decided you want to get involved in the stock market. But which apps are best for beginners?
Which Stock Trading Apps Are Best For Beginners?
Freetrade
Freetrade is consistently the top dog on popularity lists. Buying stocks for free? Doesn't get much better than that.
Besides commission-free trading, it is user-friendly and has no monthly fee. Above all, its "Investing 101" section makes it the best for beginners.
AJ Bell
AJ Bell is one of the biggest and most comprehensive wealth managers. Its popular mobile app and 5-star customer reviews make it a strong candidate for beginners.
However, this choice does come with a price tag. So, only get this app if you're serious about getting into trading.
eToro
eToro allows beginners to learn and copy from more experienced investors. There are social trading features and you can view others portfolios for inspiration.
Another big whoop is commission-free stock trading. But, alas, the app comes with lots of mandatory additional fees. So, make sure to understand these before you start investing.
FinecoBank
If you're serious about trading stock on an international scale, this app is for you.
Fineco provides one of the most detailed app platforms. On it, you can trade worldwide across 26 global markets. The app is complete with live prices, personalised dashboards and push notifications.
Barclays
If you hold a Barclays current account, this app would make for a suitable first choice.
These individuals can choose between three handy options. Depending on your experience, you can select your confidence level and the app will tailor good stock investment options for you.
These plans mean you can grow your skills over time, making it a great place for beginners.
Revolut
This banking app also offers stock trading functionality. Users can also invest in stocks with zero commission fees.
Revolut also offers user-friendly analytics with a dashboard to track market data and your investments.
Conclusion
All of these stock trading apps offer something a little different. For any beginner, they will have to assess their priorities to know which app is best for them.
Choosing the right stock trading app is a crucial step to entering the world of investing. Think about your financial goals, preferred features, and how much support you'd like.
The right app can start the journey towards growing your wealth and financial freedom.