Jobs · 6 min read
How To Write A Cover Letter For A CV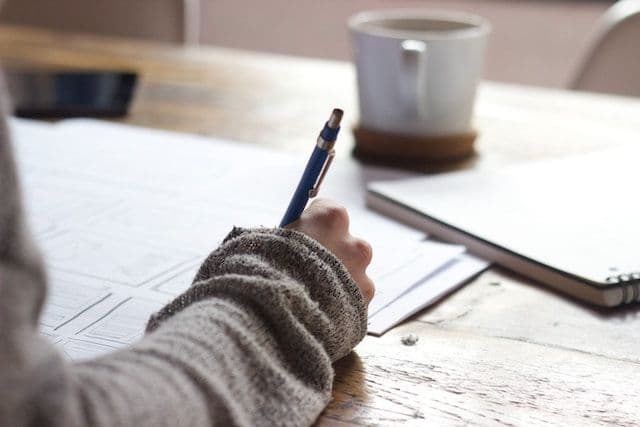 Imagine a world where you can just walk up to an employer and ask for a job. Alas, this is just a faraway dream. To get a job these days you usually need a bunch of documents...including a cover letter.
While a CV is a brief account of your education, qualifications and experience, a cover letter is a little different.
Don't sweat it, it's not complicated! Just stick with us and we'll explore what a cover letter is, and how to write the perfect one.
What Is A Cover Letter?
You may be familiar with what a CV is, but you might not be so sure about cover letters.
Basically, you can think of a cover letter as being like a formal introduction. This document usually comes alongside your CV and it asks an employer to consider your application.
This letter is usually only 3 to 5 paragraphs long. But it can do a lot to showcase your enthusiasm for the position - if it's done right!
Make sure you write a new cover letter for each job you apply for. Cover letters need to be specific to the company and role.
A compelling cover letter can make you stand out from the other candidates. This can help you to land that oh-so-important interview!
How Do You Write A CV Cover Letter?
It's All About the Research!
It's true for most things that you can never do enough research. And cover letters are no exception.
Research may sound boring but it's actually a great way to get to know a company. A cover letter is a fantastic opportunity to display this knowledge and let an employer know you're keen!
Luckily, this isn't the same kind of research you do at school or uni. There are no tricky exam questions involved! It's pretty simple, just check things like their website and recent news articles.
And, if you can get in contact with people who work there, they can give you some insider titbits!
Do the Introductions
Now, time to introduce yourself to your potential employer! Luckily, doing this with a cover letter can be a little less awkward than an in-person "hello" and a handshake…
You may have the name of the employer, in which case you should put this alongside their preferred title. For example, 'Mr', 'Dr', 'Mrs', 'Ms'. If you're not sure of the name, just start with 'Dear Sir or Madam'.
Make sure to also pop down the company name and postcode. This way everyone knows it's definitely addressed to the right person and company. Getting it wrong could be a little embarrassing!
Next, introduce yourself and explain how you found the advertised job. Mention the job title you're applying for so that there's no confusion!
Show You're Right for the Job!
Now, it's time for the piece de la resistance! This is what a CV cover letter all boils down to - explaining why you're right for the job.
Highlight the skills and experience you have that match with what the employer is looking for. For example, if you're applying for a job in graphic design, mention things such as graphic design courses you've completed.
The point of a cover letter is to convince the reader that you're serious and enthusiastic about working for them. Think, what are your work values? What unique attitude could you bring to the table?
Bring It to a Close
Remember, CV cover letters are meant to be short and sweet. Don't waffle on. After a few paragraphs, bring the cover letter to a close.
Thank the employer for considering your application and let them know they can get more details from your CV.
Finally, tell them you're looking forward to hearing from them. Include how best they can contact you. Whether you get the job or not, we're sure you'll want to hear as soon as possible!
Then, end your cover letter with a formal sign-off. If you know their name, the cover letter should end with 'Yours sincerely'. If you don't, then it's 'Yours faithfully'. This is a good tip to remember for any formal letter!
Make Sure it Looks Good!
Of course, the information is the most important thing about a cover letter. Nonetheless, a neat cover letter will help an employer take you seriously. A scruffy document won't do you any favours!
Use the same font and size as you do for your CV, so it looks consistent. Make sure to check all details are correct, such as the company name and address. And ensure all the spelling and grammar is correct. Especially if you're not the best speller, this tip is extra important.
Our final tip is to keep a copy of your cover letter as they may ask you about it in the interview. Imagine how embarrassing it would be if you get caught out on something they ask you later!
Conclusion
Crafting a compelling cover letter is an important step in the job application process. It may just seem like another boring document to write, but don't think of it like this!
Think of a cover letter as an opportunity to get to know a company, and for a company to get to know you.
So, use your cover letter as a chance to stand out from the crowd. A well-crafted cover letter can make all the difference in landing an interview. Then, it's onward and upwards to your dream job!
Want to improve your financial literacy and work towards your savings goals? Get started with Prograd today.