Invest · 5 min read
Best Trading Apps For Beginners UK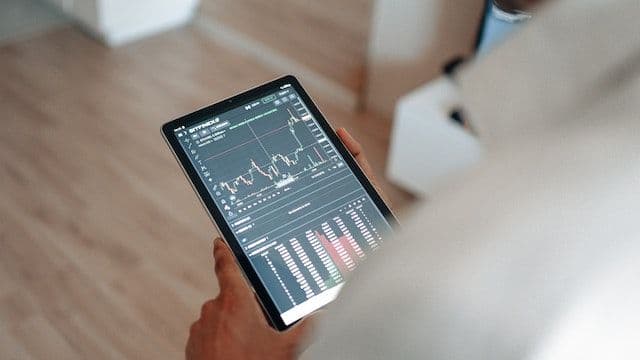 Want to start trading on the market but have no idea where to start? Look no further than your app store. Trading apps allow anyone, no matter how experienced they are, to buy, sell, and trade on the market. Sounds good, right?
But why trade at all? Trading can offer fantastic financial rewards. Whether your pockets are feeling a little empty, or you're just interested in trying, why not give it a go?
If you are looking for help building wealth, Prograd's algorithm scans hundreds of opportunities to help you meet your savings goals - all for free! Simply click here to get started with Prograd today.
It's important to remember that cash can fluctuate in value, so buying financial assets can be a great way to build wealth in the long term. If this appeals to you, you might be asking yourself: What are some of the best trading apps for beginners in the UK?
What Can Trading Apps Do?
Before the existence of the Internet, trading could be complicated and chaotic. Think brokers screaming down phones, complicated graphs and assets you can't keep an eye on.
Now, things are a lot simpler. Whilst trading can still feel confusing, smartphone apps make the process easier to navigate.
These apps can allow users to trade a vast array of financial assets. Whether it's stocks, electronic funds transfer (EFTs), crypto, non-fungible tokens (NFTs), and more. They can also offer user-friendly interfaces, educational resources, and other features to simplify the process.
What Are The Best UK Trading Apps?
Let's dive in…
Revolut
Revolut's trading app is any beginner's dream. Users can invest in stocks, crypto and EFTs with no commission fees.
This can be done using the handy app dashboard. Users can use this to engage with beginner-friendly analytics to track market data and investments.
Coinbase
The rise of crypto has been experienced on a global scale in recent years. With this app, you can join Elon Musk and the rest of the crypto fan army.
Coinbase's platform is reliable and easy to use. It provides the space for beginners to explore crypto and get a knack for the fundamentals before they get trading.
Freetrade
As a beginner trader, you can't beat an app that allows you to buy stocks and EFTs for free. With no monthly fee, this is a great cost-efficient option.
This user-friendly app even offers an "Investing 101" section to help out its beginners.
IG
IG is the app to go for if you're serious about trading long-term. This app can take you from being a beginner to an experienced trader.
To help beginners, it also offers the benefit of risk management features. This includes a demo account for users to practice trading strategies in a risk-free environment.
Trading212
Trading212 offers users a wealth of beginner-friendly features. Perhaps most attractively to beginners, the app offers a demo account. This allows users to practice trading strategies and get hands-on experience, without the risk of losing any money.
Using Trading212, you can not only trade stocks but EFTs and other financial assets.
OpenSea
OpenSea is perhaps the most popular NFT app. It is the world's largest NFT marketplace, hosting over 80 million NFTs.
If you want to get into NFT trading, OpenSea undeniably offers the greatest array of options. Whether it's digital art, photography or collectables, you can find the asset for you on OpenSea.
Plus500
Plus500 is another great option for users wanting to trade a range of financial assets.
Their app has an intuitive interface, real-time market data, and risk management tools. All of these provide beginners with all the features they need to start trading.
Conclusion
When looking to plunge into the world of trading, why not take the time to consider what suits you best? There are thousands of apps out there and a whole variety of financial tools to trade.
The most important thing is to choose the app that makes you feel the most comfortable. The truth is investing will always involve risks. But the right app can put you at ease in the hectic and exciting world of trading.
Want to improve your financial literacy and work towards your savings goals? Get started with Prograd today.