Jobs · 4 min read
Best Part-Time Jobs You Can Do From Home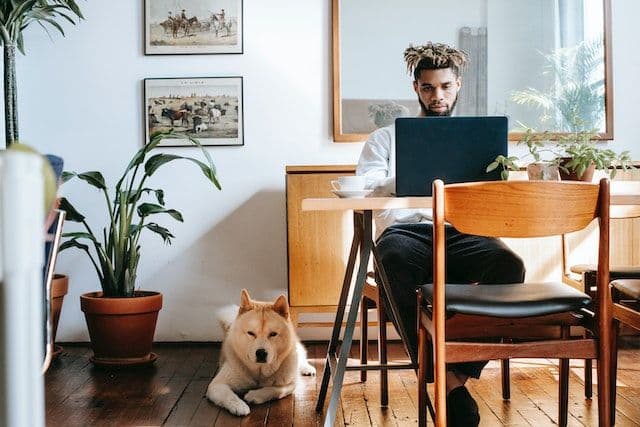 Looking for a part-time job but don't fancy leaving your house?
It's easy to see the appeal of working from the comfort of your own sofa. Who wants to wake up early to commute all the way into an office? Not to mention it can be expensive to fork out for travel and lunch every day.
All-in-all, you may feel that in-office work is just not the lifestyle for you. So, if you feel this way but still want to work part-time, do not fear. There are tons of opportunities available for anyone looking for jobs they can do from the comfort of home.
Step into our (online) office…
Some Part-Time Job You Can Do From Home
Get Creative With Graphic Design
Part-time remote graphic design positions are perfect for anyone with creative flair. Companies frequently need graphic designers to create visual branding and assets for their websites.
As long as you have access to design tools, you can collaborate with clients from the comfort of your home. This is a great way to build a fantastic creative portfolio.
Become A Virtual Assistant
As businesses continue to embrace remote work, the demand for virtual assistants (VA) has skyrocketed.
Being a VA can mean several things. These roles range from sales assistant to database administrator to customer service advisor. Ultimately, the job of a VA is to provide administrative support remotely.
Delve Into Content Creation
If you have a way with words, content creation is always a job in high demand. Part-time writing or editing can be an excellent part-time option.
Whether this is producing articles, blog posts, or UGC (User Generated Content), there are plenty of remote gigs out there.
These part-time jobs allow you to align projects with your own interests. It can also hone your writing skills - an ability that almost every industry will find valuable.
Become A Researcher
Businesses always need individuals to help conduct market research, gather and analyse data, and compile reports.
Becoming a researcher is a great way for you to make money from home. And anyone with a knack for using online resources to investigate topics and compile data will take to it with ease.
Turn To Social Media
Social media is useful for more things than watching cute videos of cats. In fact, by getting a social media manager role, you can also find a fantastic remote part-time job.
This will involve creating content, managing accounts, engaging with followers, and analysing performance. Businesses of all shapes and sizes require this as part of their marketing strategy.
This job will make you proficient at digital marketing, content creation, and data analysis. It can also provide the opportunity to have a little fun in something more creative.
Start Your Own E-Commerce Business
For anyone with an entrepreneurial streak, this is the part-time job for you.
Have a dusty collection of items you no longer need sitting in a corner? A great place to start is by selling things you no longer need to turn a profit. Then, turn your eye to finding hidden treasures at vintage shops or markets. You can sell anything you find from clothing to collectibles.
And, if you're handy with crafts, you may even start up a business selling handmade products.
Not only can this earn you some extra cash, but it can be hugely rewarding to build your own e-commerce platform.
Conclusion
In the digital world, work has expanded beyond the traditional office. If you don't want long commutes and loud workspaces - you can have a great career - all from the comfort of your own home!
Each of these remote part-time opportunities offers a way to earn a flexible income. Best of all, they do this without compromising your freedom and sense of convenience.
Whether you're a student, parent, or just seeking extra income, you can work on your own terms in any of these remote jobs.
Want to improve your financial literacy and work towards your savings goals? Get started with Prograd today.