Jobs · 5 min read
Part-Time Jobs In The UK For International Students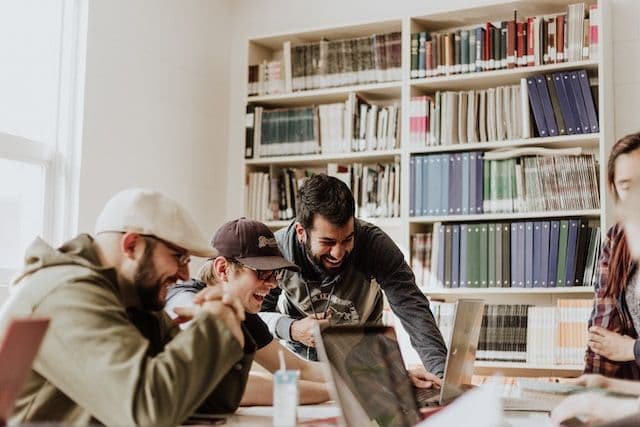 Part-time jobs can be a great way to curb the cost of uni.
As an international student, studying in the UK should be an exciting prospect! Yes, we may have terrible weather, but other bits about studying here are cool! Like enjoying the great pub culture and trying an authentic fry-up.
But while this sounds great and all, studying in the UK can kinda rack up. That's right, it can be pretty expensive to study here.
To solve this problem, a part-time job might just be your ticket to success.
If you are looking for a new role this term, Prograd's algorithm matches you with hundreds of opportunities near you. Simply fill in our 10-second form and get started today.
Need some inspo? Here are some of our favourite part-time job options.
Why Get A Part-Time Job As An International Student?
When you come to the UK as an international student, getting a job is probably not how you imagine spending your time.
Unfortunately, international students don't get those handy government student loans. So, they might need a little extra help in financing their studies here.
To do this, instead of getting bogged down with a full-time job, going part-time lets you keep your student commitments while making some cash.
What Part-Time Jobs For International Students Are There?
Getting a job as an international student doesn't have to be any harder than it is for any other student. You'll probably need to be happy with conversing in English, even just at a basic level.
Next, you'll need a job that's flexible so you can keep on top of your studies. And what if you want to fly home for the holidays, or even for a long weekend? Make sure to get a job where you can take enough time off to go home every once in a while!
Language Tutoring
As an international student, you may have a real edge when it comes to language tutoring!
If you're fluent in a language other than English, you may offer language tutoring or conversation practice. Not only will this earn you a pretty penny, but it can develop your communication skills.
Campus Jobs
Getting a job on campus is a great option for international students. Universities will be very understanding of your situation and will allow you to have a flexible work schedule.
Plus, it'll be a stone's throw away from where you take your classes. Result!
Retail and Hospitality
Part-time jobs in shops, restaurants, cafes, and hotels are pretty common for international students. This is mostly because there are so many kicking around, so it's easy to nab one.
They also have super flexible hours, allowing you to work late-night and weekend shifts.
Administrative Work
As an international student, you may want to keep an eye open for administrative positions. This includes jobs in offices where you can do data entry, customer service, or admin support.
These jobs are valuable to any students because they get you used to the big wide working world! It can be helpful to have a little taste of office life in case you end up in one someday!
Tourism
As an international student, you'll probably want to tour the UK's tourist attractions. But, hey - why not work there?
If you're a student in a city with tourist attractions, you may be able to work as a tour guide or a member of the in-house staff. This is a great way to see another side of your student city!
Freelance or Remote Work
As an international student, you'll have lots on your plate. You'll need to study of course, but you'll also want plenty of time to explore the UK. And, you may want to fly home every once in a while.
So, you may feel that a really flexible would suit you best. For this, look no further than a remote or freelance job!
Even if you're not confident about your English, you may have other useful skills. For example, in graphic design or computer programming. If so, why not get some freelance or remote work in these areas?
They can allow you to do creative projects that line up with your interests. Plus - they'll make your CV shine!
Can I Get A Part-Time Job As An International Student?
Just keep in mind that, as an international student, you'll need to ensure any part-time work complies with your student visa.
Make sure to head over to the UK government website to check this out. Or, pop into your university's international student office.
Conclusion
Studying abroad can be scary. You might not know anyone, you're away from home, and you may be unfamiliar with the UK. A student job can really help you to settle in and make some new friends.
Not only this, but you'll get the chance to develop new skills. And, with the cash you earn, you can put a bit towards exploring the UK! We promise, that when the sun's out, this can be pretty fun.