Jobs · 9 min read
Ten Entry-Level Remote Jobs Ideas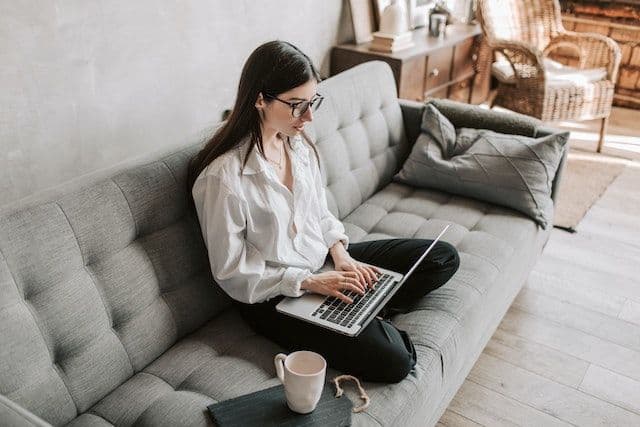 In 2020, we saw the world grind to a halt. The pandemic had many consequences on the world and how it operates. The most affected was our relationship with work - with remote jobs becoming the norm.
2020 and 2021 had many companies shifting some of their employees to remote work. Now, in 2023, offices are calling back their employees. Still, many people are questioning whether returning to a life spent in the office is necessary.
Now, everyone is wondering what entry-level remote jobs are out there and if returning to the office is something they need to contend with.
If you are looking for a remote entry-level job, Prograd's platform has hundreds of roles available to kickstart your employment journey. Check them out here.
In this article, we share the top ten entry-level remote jobs you should consider getting in 2023. So, let's not waste any time and get started!
Top Ten Entry-Level Remote Jobs
Here's Prograd's choice for the best entry-level remote jobs available in 2023:
Graphic Designer
Many entry-level remote jobs revolve around marketing and assistance; one job is being a graphic designer. All companies need some form of graphic, and if you've got the equipment and talent to provide quality designs, why not make a living out of it from home?
Being a graphic designer mainly requires you to have the equipment needed to perform the job. Talent comes second. Without a quality computer/laptop, you'll be unable to do your job adequately. Graphic designers are responsible for typography, images, videos, etc.
Virtual Assistant
In the last few years, Virtual Assistants have become a staple in many businesses for professionals needing additional help in various aspects of their work life. The idea behind virtual assistants is to combine a person and technology to create someone who can perform various tasks quickly and efficiently with little error.
Being a virtual assistant is a great entry-level remote job that requires you to do everyday administrative tasks. These tasks include making phone calls, managing calendars, organising emails, scheduling appointments, conducting research, booking hotels, restaurant reservations, etc. The tasks are often small in size but large in quantity. Nevertheless, it's relatively easy work, and it can pay exceptionally well!
Data Analyst & Data Entry
These are similar types of jobs but also different in their requirements. Data analysts take all forms of data relevant to a topic and derive meaningful insights from the data found. For example, it could be sales trends, customer satisfaction, etc. The point is to take the data and understand the results through examination of data.
Data entry, on the other hand, is a job where you'd be required to update, manage, and enter data into a system or spreadsheet. There are numerous ways to organise such data, but the point is to organise it so it's easier to digest.
Customer Support
When it comes to entry-level remote jobs, none fit the bill more than customer support. It's a basic fact that almost every company in the world requires customer support. It doesn't matter how big or small the they are.
As a customer support representative, you'll deal with customer issues, questions, and complaints from the comfort of your home. The best part about customer support jobs is that they require next to no experience to get the job. Instead, the requirements might be more based on your technical ability to perform the job, such as internet connection, internet speed, etc.
Online Tutor
If you're smarter than the average bear, then you should consider online tutoring. The world is filled with eager students looking to sharpen their minds for school, work, or just the joy of learning. Suppose you're gifted in a subject like English, mathematics, etc. Why not help someone else gain that intelligence too.
As an online tutor, you'll deal with students of all ages looking to better understand certain subjects. Some tutoring services require you to take their courses to prove you can teach. Still, they're not extremely difficult or expensive to complete.
Recruiting Coordinator
When it comes to hiring people, it's a full-time job, and that's where recruiting coordinators come into play. These individuals will be in charge of meeting with managers to determine what the personal needs are for a company. Then they'll lead the effort to fill all the vacant positions in a company. They'll do this by sourcing, screening, and selecting candidates for specific jobs at a company.
Recruiting coordinators don't actually do the hiring. Instead, they usually produce the best viable candidates for a hiring team to consider. This saves the company time by outsourcing the bulk of the work to someone else, and that someone could be you!
Transcription
There are a lot of transcription jobs out there for people looking to work remotely. This type of job is relatively straightforward. It requires you to get audio files from a client and transcribe them into documents. The job has two major requirements. The first requirement is excellent hearing, and the second is the ability to type efficiently.
Some forms of transcription may have additional requirements, such as medical transcriptions, which have numerous technical terms you'd need to understand. However, the great thing about transcription is that there are numerous freelance companies for you to consider.
Research Assistant
This type of entry-level remote job is usually hired by a research institute, university, private organisation, or even an individual for the means of helping them research certain topics. The point is to help ease their workload in their efforts by collecting, analysing, and entering data, designing research methodologies, searching relevant literature, and anything that aids the overall research.
This job is all about exhaustive research and digging deeper than the lead researcher may have time for as they work. So if you're interested in research and further learning, this can be an extremely fun job if you're able to get it.
Content Writer
Many companies make a concerted effort to rank their website high and educate their clients on matters relating to their services. But they often hire people to write this content for them, and that's where you could come into the picture.
Content writing can be just about anything, from social media posts to articles on their website. This kind of job doesn't usually have strict requirements. Instead, you'll likely be asked to prove you can write great content that is well-researched, void of errors, and in line with their expectations. It's a lot simpler than it sounds!
Social Media Coordinator/Manager
Many companies use social media to further their brand awareness and showcase what their business has to offer. There are two levels to how one might be a remote social media coordinator or manager.
In some cases, you'll be very much in charge of all aspects of the social media apparatus for a company, such as coming up with marketing strategies, managing a team, etc. In other cases, you might find yourself maintaining an already established process and doing minor tasks like answering comments and messages, sharing other relevant content, creating graphics, sharing posts, etc.
Regardless of which version of the job it is, you'll still be an essential part of helping the company grow its image. Even better, this job can be done from home and sometimes pays very well.
Conclusion
Are you ready to get out there and get yourself a brand new entry-level remote job? The fact of the matter is that things have changed, and there are a lot of jobs that don't require you to work in an office. If you're someone who doesn't like to or can't work in an office, there are options for you.
Getting one of these (and the many other) entry-level remote jobs is a great way to save money on things like petrol, lunches for work, etc., while also providing you the ability to work according to your own schedule, spend time with your family, and so much more.