Jobs · 6 min read
What Are Good Part-Time Student Jobs?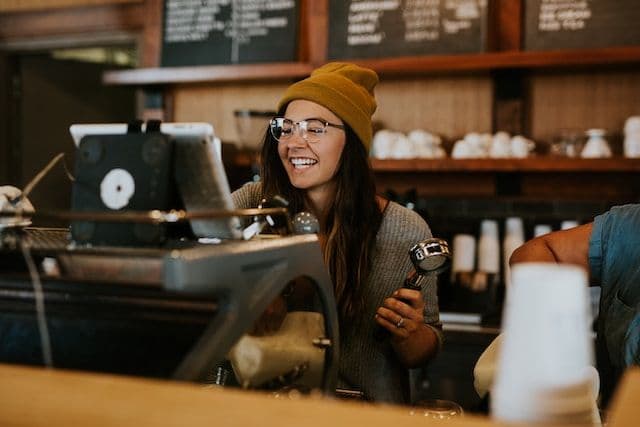 .When you think of university, what comes to mind? Is it finally living in a place of your own? Getting overpriced pints on crazy nights out? Well, like it or not, all of this comes with a price tag. Enter student jobs...
If you are looking for a new role this term, Prograd's algorithm matches you with hundreds of opportunities near you. Simply fill in our 10-second form and get started today.
Why Should You Get A Part-Time Student Job?
The idea of working when you're not studying or drinking at the local student pub? The horror! But actually, getting a part-time student job can be a pretty good idea.
A student job can help you develop new skills and meet new people. Plus, it won't exactly harm your CV to build up some handy employment experience.
And, yeah, your bank account will thank you! Trust us, you'll be happy you've got a part-time job once you see the cash rolling in.
What Good Part-Time Student Jobs Are There?
Luckily, there are lots of part-time jobs up for grabs for students!
Best of all, in today's day and age, you don't even need to leave your room! You heard us right, students can choose to work part-time from the comfort of home with a remote job.
Imagine it! No waking up early to trudge to work, you would be free to grab a snack and cup of tea from your kitchen whenever! If this sounds good to you, you might want to consider a remote part-time job.
Still curious about what kinds of part-time jobs are available for students? Then grab a seat and stick with us. We've found some of the best part-time student job ideas so that you don't have to.
Hospitality
Working in hospitality has always been a trendy student option. It allows you to work a part-time flexible schedule, they're pretty easy to come by, and it's often very social.
Wanna learn to make some awesome cocktails? Then you might like a job behind the bar. If not, there are always front-of-house jobs. Or, if waiting on tables sounds too stressful, you can work out back! Hospitality part-time jobs are something to suit everyone.
Just take your CV and pop into local restaurants and bars. Or, seek out online platforms that advertise hospitality roles.
Online Work
For anyone that likes the idea of a remote job, online part-time work might be for you!
There are lots of opportunities open for students looking for part-time online work. This includes part-time writing, graphic design, web development and design jobs.
What's great about these jobs is that they're super flexible. They also give students the chance to choose projects that align with their interests.
Building a valuable portfolio of creative work is also gonna look great on the CV!
Sounds good? Simply click that green button in the top corner to get started!
Library Assistant
This one is especially great for students because, well, aren't students supposed to love books? Like, aren't you meant to be spending all your time in the library anyway?
But on top of studying in the library, why not also work in the library! Either in your public library or in your university library, this is a great way to earn some cash.
Tutoring
Any chance you're particularly great at a certain subject? Well, then why not capitalise on this and teach it!
Students can get a great gig as a part-time tutor. Not only does this pay super well, but you'll develop fantastic communication and leadership skills. Plus, if your student schedule is kinda crazy, tutoring is great because it's flexible and can be done from home.
Sales Assistant
Companies are always on the lookout for part-time sales assistants. This is a great option for students looking to nurture a career in the business world.
In this role, you'll develop product knowledge and assist in sales transactions. Not only will this spark great interpersonal abilities, but it will develop your customer awareness and sales skills.
Delivery Driver
From Amazon packages to online food orders, delivery drivers get people's shopping to their door.
Of course, you may need to drive a delivery van. This may sound super cool, or it may sound a little daunting. If you can't see yourself driving a van, some companies let you drive your own car. Either way, you will need a driver's license!
Retail Work
As a student, you'll probably want to spend your weekends going out and being severely hungover. But, if you're willing to give up some time, why not pick up a part-time job at a local shop?
Lots of stores are open most days of the week and stay open late. So, you can get all the shifts you need to compensate for all those late-night takeaways.
Conclusion
See, there are lots of great part-time student jobs up for grabs! And if you find the right one, you should be able to work and still have all the student fun you want.
Sometimes, it's as easy as popping into your local shop or cafe. Or, why not sign up for platforms like Prograd that pair you with jobs that can help you meet your financial goals?
Either way, getting a part-time job will help you develop tons of useful new skills. Plus, it can be a mega CV booster. And, yes, you're bank account will definitely thank you!