Finance · 6 min read
Best Apps For Trading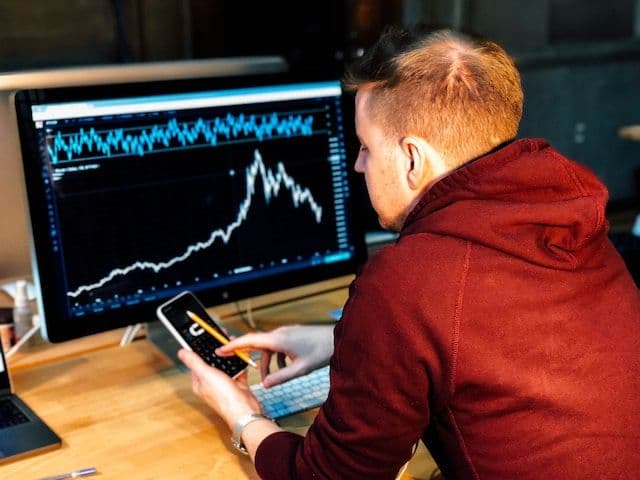 When you think about trading, you might picture old brokerage offices or Wolf Of Wall Street-type chaos. Alas, this isn't really how things work these days. The rise of smartphones has totally changed the trading landscape.
Your phone may let you scroll endlessly through Instagram and TikTok, but it's actually useful for a lot more than this! Phones can give you access to a great array of trading apps.
If you are looking for ways to invest or save your money, Prograd has tons of personalised options available instantly. Simply fill in our 20 second form to get started.
So, do you feel tempted to give trading a whirl? Then look no further! We're gonna break down all things trading apps, and show you some of the best on the market.
How Do Trading Apps Work?
We know you wanna get going and start trading with the best app you can, but hold up! Let's take a look at how trading apps work before you leap into the stock market.
To put it simply, a trading app is a platform where you can buy and sell stock.
Users download a trading app to invest in stocks and can track the market in real-time on their phones. This is done in the hope that they will make money out of trades. Ahh, more money for nights out and new clothes - imagine!
These days, there are two main types of trading: traditional stock trading and cryptocurrency. The former is when you buy a company's share, the latter is when you trade things like Bitcoin.
Right, enough explaining, let's take a look at some of the best trading apps on the market!
What Are The Best Apps For Trading?
Of course, the trading app you choose is up to you. But generally, you'll want one that is user-friendly, gives you access to real-time data and offers cutting-edge features.
Here are some apps that we think encompass all these traits. Enjoy!
Freetrade
What could be better on your stock trading journey than starting with a completely free share? At Freetrade, this is just what you get! You just need to open an account with at least £50.
There are over 6,000 global stocks to choose from, all with zero-commission trading. Sounds pretty good, right?
If you wanna access the full list of stocks, you'll need to pay to upgrade your app. But, if you're a beginner, the free version should suffice.
Saxo Markets
People with all levels of trading experience are welcome at Saxo. This trading app offers an award-winning range of shares and over 22,000 stocks. Wow! This makes it ideal for beginners as well as high-volume traders.
This trading app also comes with some pretty cool trading tools. These include analysis tools, news and expert research and extensive charting to name a few.
And, if you're looking to learn more about trading, Saxo offers podcasts, webinars and more risk management features.
Hargreaves Lansdown
More investors use Hargreaves Lansdown for trading than any other UK broker - and for good reason!
This trading app has one of the largest selections of assets available. But, what's even better, it also offers access to human financial advisors. So, if you're feeling a little shaky, helpers at Hargreaves Lansdown can help you to achieve your goals.
There are also regular alerts and emails to provide you with daily market updates. This will help keep you on the ball!
eToro
The eToro trading app is the pioneer of copy trading. What's copy trading you may ask? Well, this allows users to copy the trades of successful investors.
This feature enables beginners to learn from experts and replicate their trades in real time. You, the pupil, will learn from the trading masters! Now that's pretty cool.
Apart from copy trading, eToro also offers access to traditional markets like stocks and commodities. In fact, you can access over 3,000 stocks! The app also offers commission-free trading, keeping your costs low.
It's well-designed and easy to use, making trading a breeze even for a newbie.
Wealthyhood
Now, we all know trading can be risky. Luckily, Wealthyhood provides a safer trading strategy.
This trading app offers a range of exchange-traded funds (EFTs). EFTs help you invest in a wide range of stocks, keeping your portfolio fully diversified. This can help you reduce your trading risks.
This trading app also offers a superb array of educational materials. So, you can learn on the job as a beginner with Wealthyhood.
Conclusion
Mobile apps have totally changed the world of trading. What was once a remote possibility is now at your fingertips!
So, if you fancy getting into this exciting trading scene, then give any of these apps a pop. From commission-free trades to educational materials, each can help you navigate the markets confidently.
Just remember to always do your research and, of course, be careful out there! Trading always carries risks and you might end up in some sticky situations if you aren't cautious. Trust us, it's better to be safe than sorry in the trading game!
Want to improve your financial literacy and work towards your savings goals? Get started with Prograd today.