Spend · 5 min read
Best Current Accounts For Graduates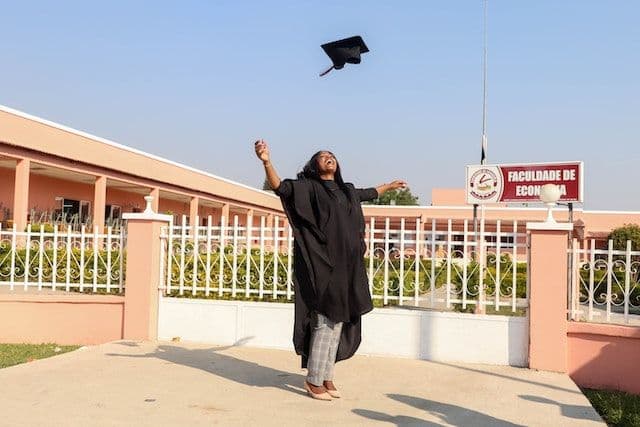 Current accounts can be confusing AF.
It feels like as soon as uni is over, you're plunged into the exciting, but scary, grown-up world.
But life after graduation can be fun! It's all about working out your career path, meeting new people, and even moving out. But it's also about money.
A big part of getting your financial life in order is choosing the right current account. Of course, there is no overall "best" current account, but there will be the best fit for you.
A good place to start is to take a look at the most well-rated current accounts amongst today's UK grads. You can also look for platforms that help you compare the best accounts to find the perfect fit.
What's The Difference Between Normal vs Graduate Current Accounts?
The first thing to decide when getting a current account is which type you want. As a graduate, there are two primary options to consider. You may choose to get a normal current account, or you may opt for a graduate current account.
The difference is that graduate current accounts are catered specifically towards graduates. This means they come with benefits designed to make your bumpy transition into the professional world smoother.
This includes great perks like interest-free overdrafts, lower account fees, and tools to help plan your spending.
As a graduate, you'll want as much help with your finances as you can get! So why not pick an account that comes with all these handy features? These current accounts make for the perfect choice for any graduate.
What Are The Best Current Accounts For Graduates?
HSBC Graduate Bank Account
This HSBC account consistently scores highly in the ranks, and for good reason!
This graduate current account offers a tiered interest-free overdraft facility of up to £3,000. This becomes £2,000 in the second year after your graduation. In the third year, you'll be eligible for one of up to £1,000.
It also offers easy-to-access mobile banking complete with instant notifications. And, for anyone who loves a good shopping discount, you'll love the HSBC Home&Away programme. This gives grads discounts at the likes of Costa Coffee and ASOS.
Barclays Higher Education Account
Another excellent choice is the Barclays graduate account. This comes with no monthly fees, a handy mobile banking app, and an interest-free overdraft of up to £1,500. Sounds good right?
Though this is a lower overdraft than HSBC, this may suit you better as a grad. A lower overdraft can help you avoid overspending cash you don't have. So, for anyone trying to build disciplined financial habits, this may be the current account for you!
123 Santander Graduate Account
The Santander account also offers a tiered approach to interest-free overdrafts. You will receive £1,500 in the first three years, £1,800 in the fourth, and £2,000 in the fifth.
Most graduate accounts just supply interest-free overdrafts for the first three years. So, for any grads who think they'll need one for longer, this may be the one for you.
This account is also ideal for any graduates who need to hop on the train a lot. All ex-students that sign up get a free four-year 16-25 Railcard. Result!
This account also gives you access to Santander 123 World. This will let you access handy exclusive deals on anything from life insurance to mortgages.
NatWest Graduate Account
The NatWest interest-free overdraft is a little different. While graduates receive one in the first two years, in the third year, it will no longer be interest-free. Instead, you will move to a Select account.
This makes NatWest ideal for anyone who isn't interested in having a long-standing overdraft.
And, if you love eating out, you'll love the NatWest Tastecard! This gives graduates 50% off their food bill at thousands of participating UK restaurants.
There is also a banking app with built-in features to track your spending. You may also utilise its 'Split Bill' feature and use the app to check your credit score for free.
Conclusion
No one wants to be worrying about their banking as a graduate - you'll already have a lot on your plate! Luckily, any of these graduate current accounts will help you transition seamlessly from student to full-time worker.
So, pick the graduate account you find to be the most useful, not the one with the most shopping discounts… But, ultimately, the best current account to choose is entirely up to you!