Jobs · 6 min read
CV Examples For Students Wanting A Part-Time Job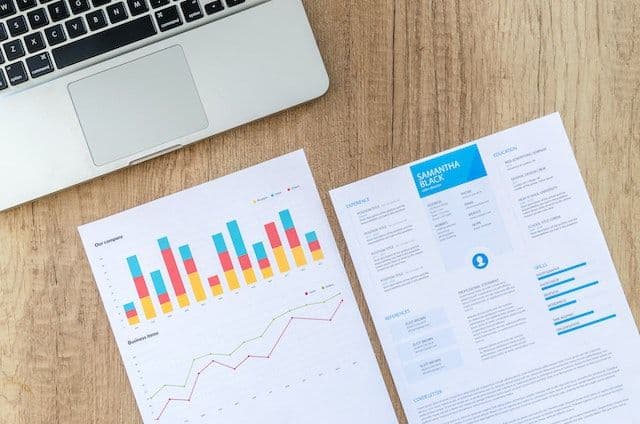 Before you apply for a part-time job, the first thing you need to do is write a CV.
Now we know what you're thinking: How TF do I do that?!
It's true, the idea of fitting your entire working and personal history onto one A4 page may seem intimidating. But a well-crafted CV is crucial to secure your dream job. Need some help getting started? Dw, we got you!
Do You Need a CV For A Part-Time Job?
A CV provides an employer with all the information they need to assess you as a candidate for a job. Whether it is for a full-time, part-time, or flexible job, you will likely need a CV.
Ok, so you know you need one. What next?
What Is A CV?
Let's start with the basics. A CV is a short, written summary of your experience, skills and achievements. It is generally the first thing employers look at when a candidate applies for a role.
Long story short, if you want the job - it must make a good first impression.
But What Exactly Should You Put In A CV?
When writing your CV, it is important to highlight whatever skills or experiences you have that are most relevant to the role.
For example, for a general part-time job, you may want a CV that has a more generalised account of your experience.
For a specific part-time job, emphasise any experience and skills relevant to that role to help you stand out from the crowd. If you feel that you lack work experience, don't worry. There are plenty of things you can include that will still help you secure the role.
Example Elements Of A CV
Ok, so you know what a CV needs to do. But how do you write it? Here's a step-by-step guide to help you get started:
Personal Information And Contact Details
First things first, a CV should include a comprehensive account of your personal and contact details. This includes your full name, location and contact information. Additionally, this should include your professional social media profiles, such as a LinkedIn profile.
Make sure this information is accurate and up to date. It can be presented in a simple, listed format. For example:
Full Name
Location
Address
Email
Social Media Profile Links
Introduction
Before you go into your skills and experience, start by writing a short paragraph about yourself. I know, sounds cringe, but it has to be done!
Include key character traits, passions and hobbies, highlighting yourself as an ideal candidate.
Ensure this paragraph is short and concise to allow space for the remaining information.
Education
Education should be listed in reverse chronological order. Begin with the most recent, listing in a simple and easy-to-read format. E.g:
Name of Institution
Dates Attended
Qualifications/Grades Attained
Below this, you can also list relevant projects, positions or academic achievements to help you show off:
e.g. Head of the computer science club
e.g. Active member of the Student Association for Computing
e.g. Received Promising Student Scholarship to study business development
Skills
Using the skills section of your CV is important to help you stand out. While you may have niche skills like juggling or magic tricks, try and list skills that would be useful to the job at hand.
Format these in a simple list, starting with the most relevant. When applying for a job, think about what you can offer that company. For example:
Languages
Specific Software / Computer Skills
Leadership
Project Management
Communication
Make sure to have specific examples to support when you have demonstrated these skills. This can help you stand out at the interview stage.
Work Experience
Next, work experience. This section will make up the primary bulk of your CV. Start with your most recent or current position and work backwards.
The description should include the name of the organisation, dates of employment, and a brief description of responsibilities and achievements. For example:
e.g. Social Media Junior Marketing Manager
e.g. Johnsons Market & Me Ltd
London, UK
April 2019 - June 2022
Assisting with brainstorming innovative marketing strategies for company clients
Designing and implementing SEO strategies for beauty brands
Leading a small team to prepare campaign reports
This section should be concluded with a mention that "references are available on request". However, the recruiter will likely only ask for these if you get through to the next stage.
Volunteering
If you have had the opportunity to get involved in volunteering programmes, make sure you create a section that highlights this. Volunteering can demonstrate that you are passionate and proactive about how you spend your time. For example:
e.g. Part-Time Shop Assistant
e.g. Johnson Wills Charity
London, UK
May 2018 - December 2019
Assisting manager with the day-to-day running of the shop to maximise sales (give specific examples with figures)
Working in a team to create marketing strategies to increase awareness of the cause
Handling of social media (Instagram, Twitter) to increase visibility and audience
Conclusion
It is important to tailor your CV to the part-time job you are applying for. But regardless of this, it is just as important that the CV is neat, clear and easy to read. The layout should be consistent in terms of font, size and spacing.
Remember, your CV is your chance to impress. So, don't be shy about sprinkling in some not-so-modest brags here and there. Employers may go through stacks of CVs for a position. This is your chance to show off!
Want to improve your financial literacy and work towards your savings goals? Get started with Prograd today.