Save · 5 min read
Best Savings Accounts For Students In The UK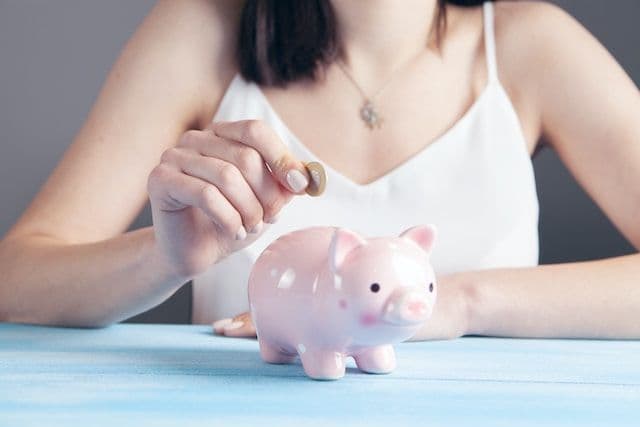 Learning to save is an important part of being a student, but it isn't easy. One way to maximise savings is by opening a savings account.
But finding the right option can be overwhelming. Jargon around fees, interest and deposit limits can seem intimidating. Luckily we've provided a guide to help you find the right fit.
What Factors Contribute To A Good Savings Account?
The first thing to understand when opening a savings account is what to look for. Finding the best savings account will require you to consider factors such as interest rates, fees, and other additional features.
The interest rate is the percentage of your savings that you will earn by keeping your money in the bank. For example, if the interest rate is 1% per year and you deposit £100, the bank will pay you £1 at year-end. Finding an account with a high-interest rate will allow your money to earn value just by sitting still. Of course, interest rates aren't inline with inflation so it's not the win it could be but it's still a slight win nonetheless.
It's also worth considering features such as the minimum deposit amount and if there is a notice period, or even a fee, for withdrawing funds.
If a minimum deposit is too high, it might not be the right option for you. Likewise, if you need quick and easy access to your savings, you might want to avoid accounts with withdrawal fees.
What makes a good savings account will be subjective. However, by assessing all the factors, you can figure out the best option. Furthermore, by using platforms that allow you to compare savings accounts, you can maximise your chance of finding the right fit for you. Don't be afraid to do the research and shop around. If necessary, ask questions. This is your money, and it's important you know what's going to happen with it if you go with a certain bank.
What Is The Difference Between Student And Regular Saving Accounts?
Many UK banks offer student-specific accounts that come with benefits to help customers save throughout their education. The primary benefit of these accounts is that they come with features such as interest-free overdraft facilities.
These accounts also offer an easy-to-navigate way to manage your finances. Some even often perks like student discounts on shopping, travel, and entertainment.
On the other hand, regular savings accounts offer more competitive interest rates. However, they typically have a withdrawal limit and require higher monthly deposits.
You have to determine what makes more sense to you while you're in university. The thing is that if you believe a student account makes sense, then go for it considering it's something you can only take advantage of while you're a student.
What Other Kinds Of Savings Accounts Are There?
Regular savings accounts aren't the only choice. Other worthwhile options to explore include opening a Cash ISA. These can be opened by any UK resident over the age of 16, including students. They offer flexibility regarding access to funds and competitive interest rates, as well as several tax benefits.
Alternatively, instant savings accounts are better for short-term saving goals as they typically never require withdrawal notice periods.
If you wanted to try something different, automatic savings apps directly move money from your bank into a separate account to allow you to save. Apps like Starling also offer savings options that round up payments and deposit the difference in a space, encouraging you to save as you spend.
What UK High Street Banks offer Student Savings Accounts?
Several high street banks offer student savings accounts. These include Nationwide FlexStudent, Santander's 123 Student Current Account, HSBC's Student Account and Barclays Student Additions Account.
These accounts are some of the most consistently highly rated accounts. However, you need to do your own research to decide which account is best for you. Don't just do the research, but also understand it.
Conclusion
The process of choosing a savings account as a student is an important one. Several factors should play into the process, and it is important to compare multiple options. Considering how many options are available to you, it's not going to be the easiest decision in the world. So, don't feel you need to rush your decision.
It may feel tempting to open a savings account with your current bank. But it is always useful to examine alternate options. Doing so will ensure you find an account that offers the best features for your saving needs.
Want to improve your financial literacy and work towards your savings goals? Get started with Prograd today.